This past Sunday night in Los Angeles, the best in music came together for the 59th annual Grammy Awards. The night was filled with some powerful performances, a few surprising wins, many unsurprising wins, and some more of the same that has come to be expected of the Grammys. There were political tones, lots of Adele, a pregnant-Beyonce performance, an excellent solo Ed Sheeran, and Chance the Rapper making history.
Adele was the focus of much of the show. With two performances, 5 nominations, 5 wins, and one headline-grabbing speech, it's safe to say Adele has reaffirmed her footing as a pop-star giant. After opening the show with "Hello", she went on to tribute George Michael, only to mess up, curse, and start the song over. No one appeared to mind as the blunder only seemed to humanize the star and make the performance more heartfelt. During her acceptance speech for album of the year, Adele praised Beyonce and her album Lemonade as "monumental", joining a slew of other artists including Kanye West and Frank Ocean who have voiced opinions about the Grammy's choices for the best in music. Critics roared about the racial bias that seems to pour out of the Grammys after Adele's win over Beyonce, suggesting that perhaps the Grammys lack inclusivity. In addition to this alleged bias, Beyonce's performance outshined Adele's. Adele's performances focused on her standing and singing which, while impressive, seemed to pale in comparison to Bey's colorful, moving, and spiritual show that featured maternal and earthly tones. Her performance was textured; it had layers to it, visually and emotionally. It invoked so many feelings that left you wanting more. The show also featured a last supper-like scene with Beyonce adorned as a goddess. (Read about the performance from an art-historian perspective here)
A Tribe Called Quest and Anderson .Paak went political with their performance with Busta Rhymes quipping, "President Agent Orange" in reference to President Trump. Tribe filled the stage with a diverse group of people standing together in front of a broken down wall, reflecting on Trump's recent travel ban, boarder wall proposition, and overall sentiments toward immigration. Ending their performance with the group center stage, their fists raised, and Q-Tip chanting "Resist! Resist!", it's clear the message Tribe was trying to project Sunday night.
Ed Sheeran had one of the best and overlooked performances Sunday. The artist stood on stage solo with a guitar, keyboard, microphones, and a looping board. He created loops of different sounds all coming together to form a very impressive and fun version of his popular "Shape of You". Sheeran delivered one of the best, most unique performances of the whole show.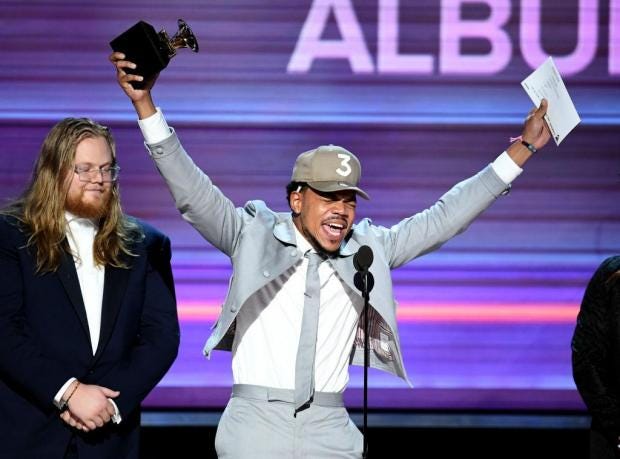 Chance the Rapper was the biggest winner of the evening. Taking home 3 Grammys, the 23 year old artist and his work on his 2016 album, Coloring Book, became the first streaming-only album to win a Grammy Award. He also becomes the first artist to win a Grammy without a record label (a truly independent artist), and the first winner to give away his music for free. As if all this history wasn't enough, Chance delivered the most powerful performance of the evening, blowing away spectators with his song "How Great" as well as a mashup of parts of the rest of Coloring Book. It was a very creative and well executed performance, putting a figurative exclamation point on his triumphant evening at the 2017 Grammys.
What's more significant is the implication Chance's victories have on the future of the music industry. Having already endured one of the greatest periods of disruption and change over the last 20 years, other parts of the industry paradigm are now being shone a light (thanks to Chance), questioning the assumption that an artist has to be signed to be successful. There's no doubting Chance's talents, and he may be an outlier, but he is a shining example that it can be done, leading the way as a light for more change ahead.
Other notable performances included: Katy Perry, Bruno Mars' Prince tribute, and Lady Gaga rocking with Metallica.